Dairy-free vegan chocolates can involve up to two alternatives of ingredients: milk and sugar. While cacao is always vegan, you have to be careful about which sweeteners are used in your chocolates. Many white sugar brands are not vegan, and you can read more about identifying which sugars are vegan here.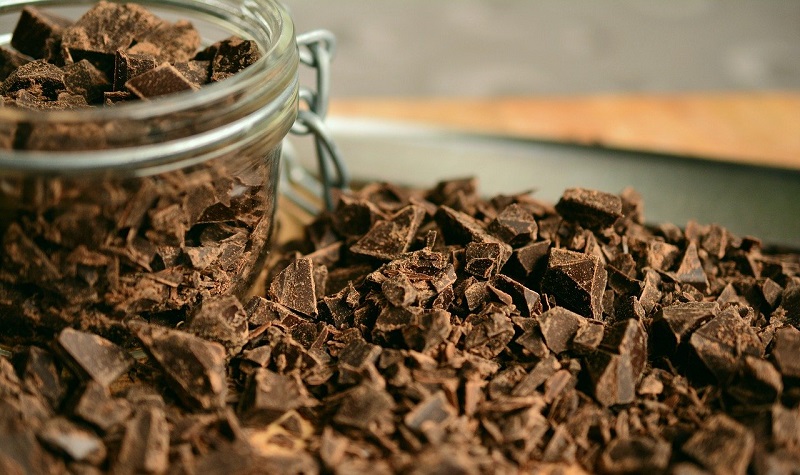 Vegan Milk Alternatives In Chocolate
Milk powder is a more obvious substitution. There's no way to "veganize" cow's milk, so you need to buy alternative milk chocolates. Before we get into those, it's important to know two things: 1) In the US and many other countries, chocolate has to have a minimum percentage of cow's milk to meet the legal definition of milk or white chocolate; and 2) Milk powder is used in chocolate as a smoother, to dull the flavor of the cocoa, which can taste bitter to some people.
To find the best vegan milk chocolates, you need to look for chocolates with a plant-based milk added. The most common milk alternatives in chocolate are coconut, oat, rice, soy, and a variety of true tree nut "mylk" powders, like hazelnut and almond. My preference is for coconut milk, as it tends to cause the fewest allergic reactions and is deemed beneficial on most diets.
The way that vegan chocolate companies replace milk powder with plant-based mylks is by adding in the plant powder of their choice, in a form with a similar macro-nutrient profile to dairy milk powders. Luckily, chocolate is a very resilient food. As long as the fat content is between 45-55%, and the particle size is small enough, you can add almost anything to chocolate and it will blend beautifully. But it's also delicate when it comes to water, so the added powder must not have a very high moisture content, or else the chocolate would turn to sludge!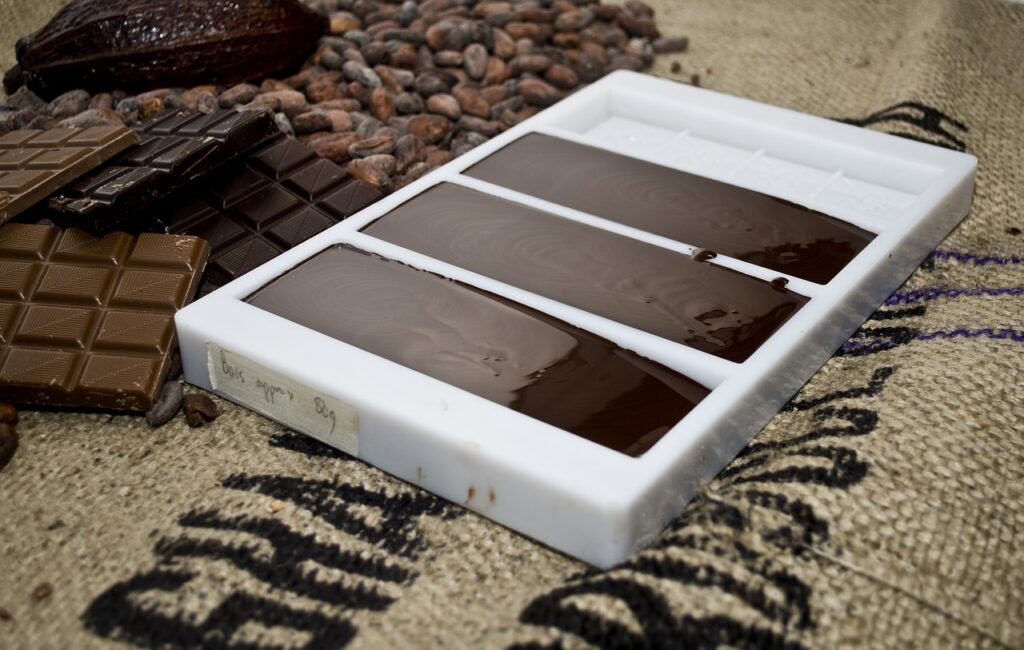 Cacao Sourcing In Vegan Chocolates
A final consideration is the ethical sourcing of cacao on the part of these companies. Hershey's or Mars or Nestle could develop a vegan recipe for some of their most popular chocolates, but who cares, if they're still sourcing crappy cacao. These manufacturers are notorious in the industry for using cacao bought at dirt-cheap prices from some of the world's poorest farmers.
That's exploitation, plain & simple.
So I've picked some of my favorite fully vegan chocolates from other the years, ethical on all levels of ingredient sourcing. Not all of these chocolates are certified organic or fair trade, because after almost a decade of research, I've realized that these certification schemes are just another way of exploiting farmers. Not only do they have to pay thousands to certify their products, but they have to continue to pay for recertification, and their "premiums" are tied to market price.
So year over year, they could actually be paid less, even when fair trade certified, just because the market price for cacao dipped really low. That is devastating for a small farmer. Direct trade is what it's all about, especially in cacao. All of the vegan chocolate brands I've mentioned below know the farmers who grow their cacao, pay well beyond fair trade premiums for their cocoa, and source their other ingredients very carefully.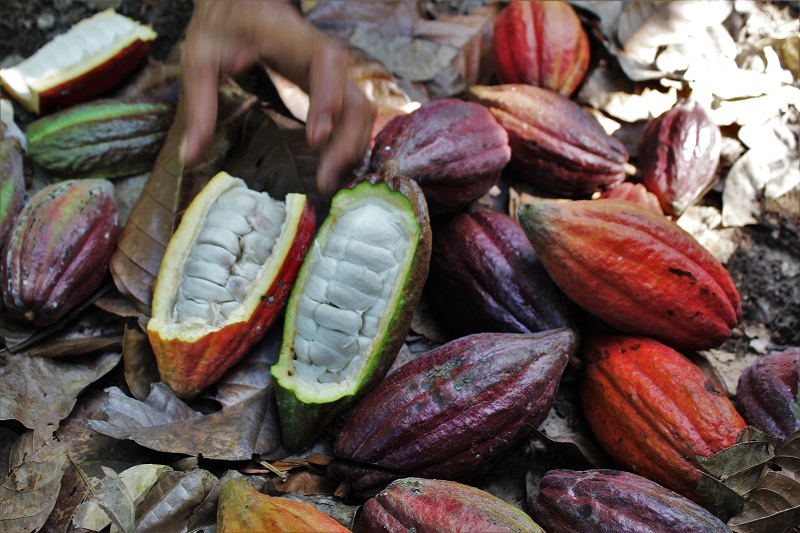 Best Dairy Free Vegan Chocolates
Do your research, or better yet, let me do it for you! It's important to only buy from companies you trust. Every product you purchase is a monetary vote for maintaining their sourcing practices, whatever they may be. That's why, unfortunately due to proven crappy or non-transparent sourcing practices, brands like Chocolove, Endangered Species, Lindt, and Trader Joe's chocolates definitely don't make the cut. Below are some of my favorite dairy-free vegan chocolate companies, all of which can ship direct to your door.
Taza Chocolate: One of the oldest craft chocolate companies in the US, Taza is a pioneer of the direct sourcing movement. After 15 years of chocolate making, they have the economic power to make a difference in farmers' lives, too. All of Taza's dark chocolates are vegan, and all of their bars are stone-ground, so if you don't like that gritty texture, they aren't for you. My preference is their dark raspberry bar, in the largest size available.
Charm School Chocolate: Founded in 2012 as a fully vegan chocolate company, Charm School crafts a variety of chocolate spreads, bars, and treats to satisfy even the pickiest of eaters! I love them because they have, while, milk, and dark chocolates, and I buy a big selection of their bars directly from them a couple times a year.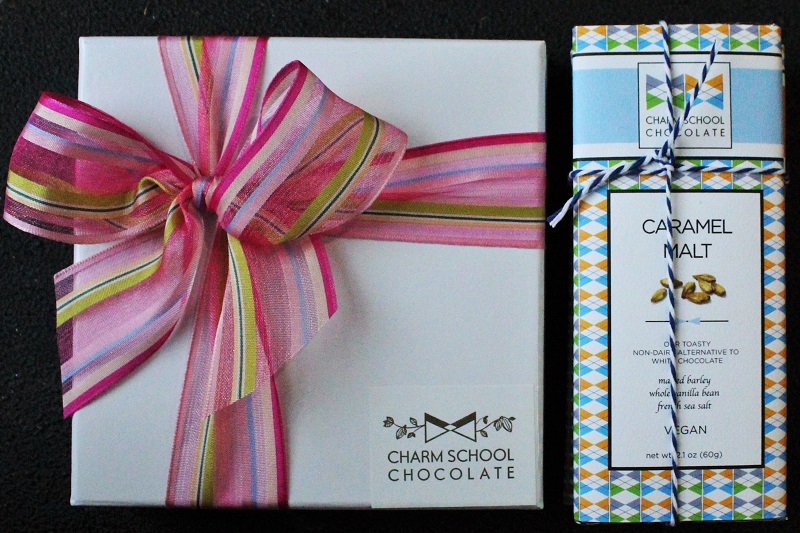 Endorphin Chocolate: You've almost certainly seen their bars in a local health-food store, with a range of delicious bars sweetened only with coconut sugar and fully dairy free. I prefer the Turmeric Latte and the Ginger & Rose bars, but pick your faves.
Raaka Chocolate: Unroasted chocolate has gotten popular over the last few years, though most makers are incorrectly labeling it "raw," and Raaka has played a large part in that popularity. Their chocolates are all made with cacao that is fermented (developing good flavors), but not roasted, and they are a fully vegan company. They even have a monthly chocolate subscription, for those of us daring enough to try experimental flavors which include Ramen, Lavender Lemonade, and Strawberry Balsamic. My go-to is their Coconut Milk bar.
Bonus: Solkiki is great, for my UK-based chocolate lovers!
These online retailers in the US also sell a good selection of vegan-friendly chocolates made with ethically-sourced cacaos. They even have white chocolates and flavored ones!